St Cyr's Churchyard Recording Project
Work began in November 2017 to photograph and record the inscriptions on the gravestones and tombs in St Cyr's churchyard and the monuments inside the church.  As of April 2018, we have completed the southern section and are near to completing the north-eastern section.    It has been thrilling to discover a number of gravestones hidden under the turf, some considerably older than any previously visible.  Where possible we are obtaining background information on the people buried as well as reading the inscriptions.  In the course of the work we have looked at many old documents relating to the church, some going back as far as the seventeenth century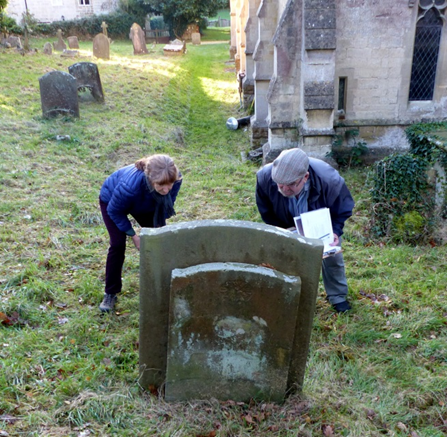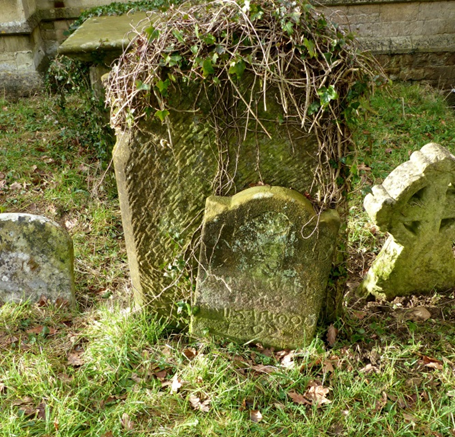 As each section is completed, the spreadsheet and photographs are being forwarded to the Gloucestershire Family History Society so that they will eventually be available to genealogists and local historians.  We are also working closely with John Pinch, who is producing an updated and corrected Churchyard Plan for display inside the church.
There will be an illustrated talk about the project in due course.  We also hope to produce a booklet about our most interesting findings.
Armistice Centenary Project
The History Society is working towards an exhibition to commemorate the people named on the Stinchcombe War Memorial or on the wooden memorial in the church porch.  It will take place in the Village Hall on 9th November, to coincide with a talk by John Dixon on research connected with the Tewkesbury War Memorial, which culminated in the publication of a book.   
The idea is to tell the stories of the fallen and possibly some of the survivors.  We are also interested in life in the immediate aftermath of the Great War  and how the war memorial came into being. 
A great deal of effort went into an earlier exhibition held in the church in 2014.  We are grateful for assistance given by Pippa Leggate, who co-ordinated that exhibition, and to Cherry Brown for making available research done by her late husband, Graham.  The History Society hopes to collaborate with other organisations in the village who wish to mark this poignant centenary.
After the exhibition, the intention is to put a more permanent record of the project on the website.